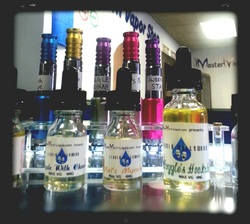 Liquid Hollywod is our premium brand of eliquid based on Hollywood Hits and Cult Classics
Ecto Puft - This delicious stuff was leaking out of our Ghost Containment Unit, so we decided to vape it. Tangy with a hint of marshmallow and a dab of menthol, this flavor will make every molecule on your taste buds explode at the speed of light.
Sweeny's Stash - Try Mr. Sweeny's miracle elixir, drop it on your wicks, Sir! A dab will do. An alcoholic lemonade flavor, Sweeny's Stash is a sour treat worth killing for.
Royale With Cheese - "And I will drip down upon thee with a great trepidation and glorious flavor into that which fills my lungs. And you will know I am the Vaper when I blow my clouds upon you". A creamy desert flavor with hints of custard, Bavarian Cream, and a dash of cheesecake, this flavor is anything but fiction.
Mal's Munchies - A sly concoction from the outer rim, Mal's Munchies is the best coconut cookie flavor this side of the 'verse. This shiny vape is sure to help you find serenity.
Hoggle's Hookah - Mixed at the center of a Labyrinth by a horde of little goblins, this peachy, tobacco flavor will make you jump and dance. May contain fairy innards.
---
Designer Flavors Created by
Master Mix eLiquid
Monday Monday
- delightful mixture of Doppio & Caramel flavors
Wango Tango
- fruity and light with a cream finish
Sweet Emotion
- A southern sweet tea with a surprise fruity twist
Comfortably Numb
- White chocolate and strawberry are the base
to
this flavor with a fun twist in the end
Over the Rainbow
- Passion Fruit is your base flavor here with a sparkling fruity blend to finish it off
Brass Monkey
- Vodka and Rum with a splash of Orange
Pastry4-
A big house favorite, blend of a creamy, sweet desert and a
smidge
of RY4 tobacco
LSD
- A psychedelic, fruity lemonade
Atomic Cake
- A radioactive berry and banana cake that will leave your taste buds glowing
Funky Cold Medina
- A robust and fruity cocktail flavor
Moulin Rouge
- A sweet berry-based wine
Suckled Pom
- A light blend of sweet fruits, including pomegranate and honeysuckle.
Broshe
- A minty raspberry flavored citrus drink
There are literally hundreds of flavors to choose from. Pick from the list or mix your own blend!
HARD DRINKS----
Absynth
Rum
Beer
Tequila
Champaign
Vodka
Jack & Coke
Whiskey
Kahlua
Hypno
Pina Colada
7 and 7
Red Wine
Butter Rum
Pineaple Mango rum

FRUIT----
Apple - red & green
Apricot
Pineapple
Double Apple
Red Grapefruit
Orange
Dragon's Blood
Banana
Passion Fruit
Watermelon
Pomegranate
Pom Deluxe
Wild Cherry
Peach
Melon
Grapefruit
Pear
Mango
Blackberry
Sweet Grape
Cranberry
Blood Orange
Wildberry
Boysenberry\Acai
Guava
Concord Grape
Kiwi
Honeydew
Blueberry
Raspberry
Strawberry
Wildberry
Poisonberry
Strawberry
Cantaloupe
Lemon Lime
Lemon coconut
Killberry

CUSTOM STUFF AND OTHER FLAVS----

Vanilla
Pizza
Peanut Butter
Monkey Farts
PB&J Strawberry
PB&J Grape
Blueberry Mad Steer
Strawberry Mad Steer

Wildberry Mad Steer
Strawberry Menthol
Blueberry Menthol







OTHER DRINKS----
Cappuccino
Espresso
Coffee
Mocha
Cappuccino
Sweet Tea
Peach Tea
Mango Tea
Raspberry Tea
Eggnog
Pepdee Float
Sun Drizzle Float
Mad Steer Float
Cola Float
Rootbeer Float
Doc Peepa Float
Misty Dew Float
Lemonade
Hawaiin Punch
Chai Tea
Earl Grey


DESSERT----
Strawberry Cobbler
Raspberry Cobbler
Blueberry
Cobbler
Peach Cobbler
Orange Cream
Cheesecake
Strawberry
Cheesecake
Cherry Cheesecake
Blueberry Cheesecake
Chocolate
Cheesecake
Marshmallow
Honey
Banana Bread
Strawberry Tart
Brown Sugar
Chocolate Pie
Chess Pie
Fudge Brownies
Apricot Amaretto Pie
Tiramisu
Coffee Cake
Cinnamon
Cinnamon Danish
Spice Cake
Graham
Cracker
Gingerbread
Pineapple Upside Down Cake
Hawaiian Delight
Vanilla Bean
Smores
Strawberry Pie
Irish Cream
Mocha
Caramel Apple
Bavaian Cream Pie
Spiced Apples
Apple Pie
Apple Crisp
Caramel
Key Lime Pie
Rice Crispies
Banana Cream Pie
Caramel Popcorn
Blackberry Cobbler
Pumpkin Spice
Red Velvet Cake
Creme De Menthe
Waffle


TOBACCO (with or without menthol)----
Marlville
Weston
Kamule
Clove
RY4
Flue Cured tobacco
555
Kolds
Cherry Cigar
Vanilla Cigar
Pipe
Saleon
Virginia Blend
Portland\Capri
American Spirit
Camel Crush
Black and Mild
Camel #9
Al CApone
Cigar
French Pipe
Tobacco Americana
Pall Mall
Basic

CANDY----
Butterscotch
Tutti Fruity
Peppermint Stick
Jolly Rancher
Peppermint Patty
Chocolate
White Chocolate
Dark Chocolate
Salt Water Taffy
Bubblegum
Candy Apple
Cotton Candy
Cordial Cherries
Hot Red Candy
Chocolate Malted Milk Balls
Strawberry Malted Milk Balls
Sour Gummy Bear
Blueberry Malted Milk Balls
Peppermint Stick
Caramel
English Toffee
Juicy Fruit
Almond Joy
Candy Corn
Cucumber Mint


NUTTY----

Amaretto
Peanut
Coconut
Walnut
Almond
Peanut Butter
Hazelnut
Nutella
Pecan

MINTY----
Cinnamint
Spearmint
Mint
Double Mint
Peppermint
Plain Menthol Flavoring

Soft Drinks---
Cola
Doc Peepa
Misty Dew
Pepdee
Rootbeer
Mad Steer
Sun Drizzle
Mad Steer
Cherry Sun Drizzle
Vanilla Cola
Cherry
Pepdee

ICE CREAM----

Chocolate
Neopolitan
Vanilla
Peach

Cherry
Peanut Butter
Banana
Cappucino
Red Wine
Grape

Kiwi
Mango
Pineapple
Strawberry
White Chocolate

Watermelon
Tutti Fruity
Dark Chocolate
Pear
Grapefruit

Rocky Road
Coconut
Butter Rum
Lemon Coconut
Lemon